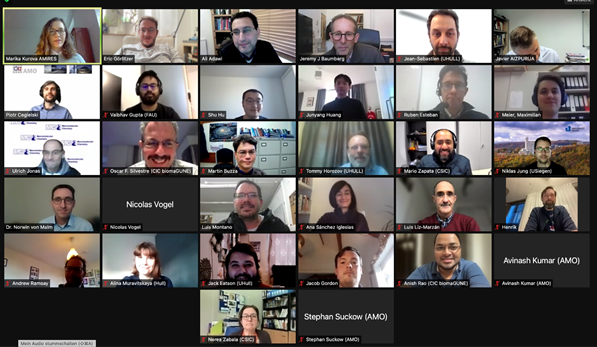 FET Project POSEIDON developing a new approach to create mass-manufacturable on-chip light sources for silicon photonics is half-way through
Optical chip-based technologies such as silicon (Si) photonics have gained a lot of interest in recent research and industry developments, however, they mainly rely on hybrid integration of III-V lasers on top of the silicon platform. This procedure is not only costly in terms of III-V wafers, but especially the assembly can reach up to 80% of the fabrication cost. POSEIDON aims to test out different approaches for colloidal assembly to integrate light sources directly into the photonic circuits. This is expected to enable cheap and yet very powerful
optical devices, with a very broad range of applications, from optical communication to sensing.
The consortium of eight partners gathered in December for a full day meeting to celebrate 2 years of project implementation and review the progress of the project towards developing a multi-scale approach to design and control the self-assembly of the colloids with nanometer-scale resolution in all three spatial directions, directly on photonic integrated circuits.
The members of project External Advisory Board, Andrew Ramsay from Hitachi, Norwin von Malm from Osram and Henrik Rodjegard from Sensair, shared their views on the potential industrial applications and provided important feedback to the consortium.
To learn more about the POSEIDON results reached so far, visit the section dedicated to scientific publications.