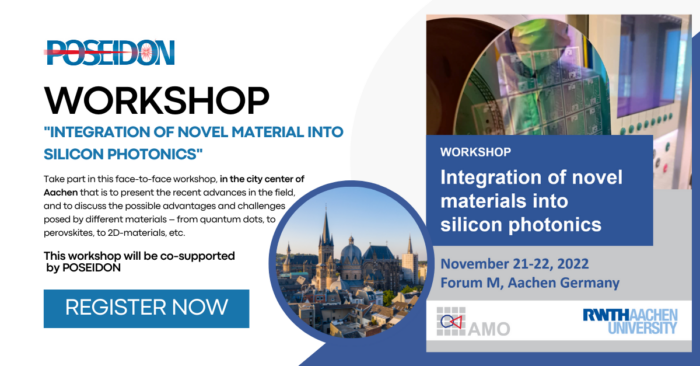 AMO GmbH and RWTH Aachen University organized a workshop on November 21-22, 2022 in Aachen, bringing together experts from academia and industry to discuss recent advances on the integration of novel materials into silicon photonic platforms. The scope of the workshop "Integration of novel materials into silicon photonics" was to present the recent advances of the field, and to discuss the possible advantages and challenges posed by different materials – from quantum dots, to perovskites, to 2D-materials, etc. – and by different integration strategies. The workshop included a session dedicated to the integration of 2D materials, in cooperation with the 2D-Experimental Pilot Line.
In the past decade, the field of silicon photonics has grown tremendously, exploiting standard materials and processes of the semiconductor industry for realizing complex photonic integrated circuits with high yield and high volume. In some cases, however, this approach does not suffice. The integration of novel materials is increasingly seen as a promising route to enhance the functionality of standard silicon and silicon-nitride photonic platforms, and to overcome their limitations – in particular concerning light emission, ultrafast modulation, and nonlinear applications.
Registration was free of charges.
🔵Registration page: https://lnkd.in/ejSJHK_t
🔵Workshop program (tentative): https://lnkd.in/eC8neJC8
🔵More info/speakers: https://lnkd.in/eFEGmpui
The workshop was organized by AMO GmBH (coordinator of POSEIDON) and supported by H2020 projects – POSEIDON, INSPIRE, MOCCA, PlasmoniAC, Graphene Flagship and #2DEPL, and by the German BMBF via the project NeuroSys Cluster.